PAY AS YOU GO, MEMBERS
The top-up system will allow you to upload money to your account, so there is always an available balance to book your activity, class, gym session, or swim. 
It's a quick and easy system meaning you won't have to bring your payment card to the leisure centre or have to re-enter debit/credit card details every time you make a booking.
You can top up your account online, on the app, with the hub team over the phone, or even at our leisure centres themselves on the Kiosk by card.
How do I Top Up on the app?
1. On the app click to Book A Class, Gym or Activity as normal
2. Login in to Connect Using Member ID & PIN
4. You will see the amount options to select
5. You will then be taken to this page to confirm and Pay Via Card. Once payment has been made this will update so you can see your new balance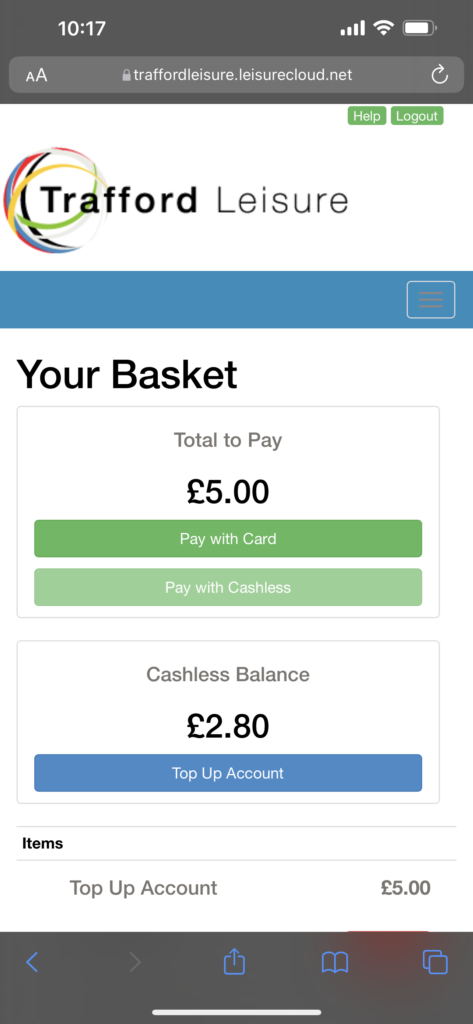 How do I Top Up on my computer?
Login in to Connect Using Member ID & PIN
2. Left Hand Corner will have a Cashless Balance and Top Up Account Option.
This will always show your current balance so you know what you have on your account.
3. You will see the amount options to select
4. You will then be taken to this page to confirm and Pay Via Card. Once payment has been made this will update so you can see your new balance